Moss Home Improvement and Roofing offers two great window brands. HK Windows and Lansing Windows & Doors offer affordable, high-performance windows that beat big expensive brands such as Pella Windows & Doors and Anderson Windows. If great looking, affordable windows are your goal, then Moss provides a superb selection.
Moss has a highly experienced window installation team. Our team can provide any house window replacement brand a homeowner desires. They have an average of 15 years experience in house window installation and maintain their training as window systems evolve. Moss Home Improvement and Roofing employees are safe around your home. They are not day workers. They are professional family men who care about their work and your results.
HK Windows


HK Windows based in Morrisville, NC, offers a diverse variety of windows, including new house windows as well as replacement windows for existing homes. The HK Windows facility features the finest computerized and automated windows machinery in the industry, allowing for the creation of even the most unique residential window. In addition to the standard single-hung and double-hung windows and grid patterns, HK Windows creates ovals, octagons, triangles, ellipticals, and many other shapes, as well as virtually any grid pattern imaginable. Every HK window features a durable, all-vinyl fusion-welded frame and sash.
The use of computerized and automated manufacturing means high quality, high-performance custom windows are created at an affordable cost. HK Windows is recognized more and more for their superior quality and value. HK Windows were selected for the contractor's home!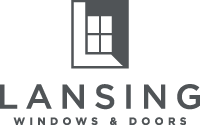 Lansing Windows and Doors
Lansing Windows & Doors based in Richmond, VA, offers several exciting options for homeowners interested in innovation, performance, and aesthetics. Lansing windows are known for the duel color options provided by their high-end interior and exterior window products.
Moss provides Lansing Series 80 and Series 40 windows. Both window series offer options for Low-E Glass, Ultra Low-E Glass + Argon Gas, obscure glass, double strength glass, 5/8″ or 3/4″ flat, 5/8″ or 1″ contoured grids, as well as colonial & diamond patterns, aluminum charcoal mesh screen, a lifetime glass breakage warranty, and a transferable limited lifetime warranty.
Series 80 windows feature aluminum-reinforced vinyl, rounded interior sashes, beveled exterior mainframe, dual color option, argon supported Low-E Glass options, and Lansing's widest range of style options. Series 80 is Lansing's all-around top choice for affordability, performance, and aesthetics.
Series 40 windows focuses on affordability while providing a superior, great-looking window. Interlocking sashes, reinforced multi-cavity vinyl construction, smooth sash movement, and several energy saving features.