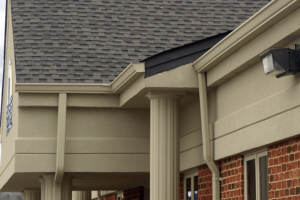 Good water control around your property assets saves a headache and cash during significant rain events. Well designed gutter systems direct water away from a structure's foundation with the proper placement of gutters and downspouts. Moss Home Improvement and Roofing provides a highly experienced commercial gutter installation crew with preferred high-performance gutter systems providing years of effective water runoff control and superior curb appeal.
Moss maintains a trusted team of gutter installers who are quick, tidy, and professional around your business. They understand how water flows and they have proven solutions for keeping structures dry. From warehouses to apartment complexes, the Moss gutter team can solve your water flow issues.
Free Quote
Moss Home Improvement and Roofing offers businesses a free quote for comparison with other gutter vendors. We bid accurately for your business, and provide high-quality installations while staying within budget. Business owners using Moss appreciate our straightforward quotes that account for expenses other vendors miss. If you don't like big expensive surprises after you hire the lowest bidder, then Moss is your vendor.
Licensed and Insured
Moss Home Improvement and Roofing maintains full workman's compensation and liability insurance to protect you from job site accidents that can place your business at risk. We are licensed to ensure your business receives the best service that meets or exceeds Virginia's stringent building codes.
Gutter Products
If it is a gutter, Moss Home Improvement and Roofing can do it. Moss can install any gutter system, but we prefer using the following Ply Gem and Shur Flo gutter systems for their exceptional water control. Learn more about these brands at Gutter Systems (http://mosshomeimprovement.com/gutter-systems/).
Scupper Boxes
Moss Home Improvement and Roofing offers scupper boxes for flat roof systems. Scupper boxes catch water flowing from parapet walls or gravel stops and allow for the excess drainage of roof water. They can be used with gutters and downspouts to divert water flow to the desired location. Our scupper boxes are made based on estimated water flow and drainage.