Controlling water around a home's foundation starts at the roof. Well designed gutter systems direct water away from a home with the proper placement of gutters and downspouts. Moss Home Improvement & Roofing, Inc. provides a highly experienced gutter installation crew with preferred high-performance gutter systems that provide years of effective water runoff control and superior curb appeal.
Moss Home Improvement & Roofing, Inc. can install any gutter system, but based on years of gutter experience the Moss gutter crew provide the following house brands and services:

Ply Gem Gutters
Providing sectional gutters and seamless gutters products, Ply Gem offers highly effective and very affordable gutter systems. Properly directing rain and melted snow off your roof keep water away from your foundation, from seeping underneath shingles, and infiltrating behind the siding.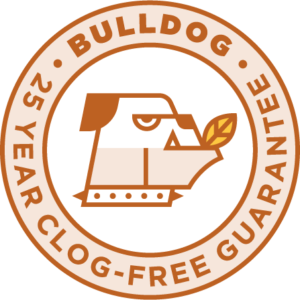 Bulldog Leaf Guard
Bulldog Leaf Guard is a brand of aluminum gutter guards from Lansing Gutter Systems. Bulldog is a superior choice for its 25 year clog-free warranty. Their system ads years of life to a home gutter system, especially if it is installed by professional installers. Other benefits of the Bulldog Made In American brand include the ability to fit new and old gutter systems, a patented ribbed design to encourage debris removal, nest prevention, and excellent water flow. The guards have a unique two point attachment system that does not interfere with roof shingles. They are green, and use 98% recycled aluminum. The guards come in 6′ sections, and are invisible from the ground.
Scupper Boxes
Moss Home Improvement & Roofing, Inc. offers scupper boxes for flat roof systems. They catch water flowing from parapet walls or gravel stops and allow for the excess drainage of roof water. They can be used with gutters and downspouts to divert water flow to the desired location.