Moss Home Improvement and Roofing uses the best products in home siding. Great siding comes from Certainteed (Saint-Gobain), Variform by PlyGem, and James Hardie. The products from these siding companies provide excellent wear and curb appeal. Together, they offer a wide variety of siding options for your home.
Moss Home Improvement and Roofing provides quality siding installation from professional, full-time siding contractors. (Moss does not use subcontractors or day workers around your home.) We provide realistic budgets and stick with them during each siding project. Our customers don't learn about additional fees or surprises after the siding installation begins. Moss Home Improvement and Roofing does not provide brick veneer siding at this time. We are licensed and insured to protect your best investment, your home.
Certainteed


Certainteed is a Saint-Gobain brand. Saint-Gobain is the world's largest and oldest building products company, with over 350 years of industry experience. The Saint-Gobain North America portfolio of products combines best-in-class technology and innovative materials, with a sharp eye for design and aesthetics.
Certainteed's vinyl siding is among the best. They carry a wide range of vinyl siding colors. Moss Home Improvement and Roofing installs a lot of Certainteed products. They offer:
Composite siding is the latest in a high-performance siding. This proprietary siding comes with a 30-year limited warranty when properly installed.
Two style of shake and shingle with three different textures provides a low maintenance 'wow' factor.
Insulated siding cuts down on noise and boosts energy savings with a potential 78.1% return on investment.
Five styles of vinyl lap siding.
Vertical siding comes in three styles and four dimensions.
Four styles of soffit for venting.
Four vinyl trim styles.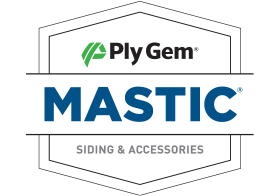 Mastic Siding and Accessories by Ply Gem
Ply Gem's line of Mastic siding and accessories feature options in vinyl, aluminum, and steel. Each variation provides your home protection from extreme weather, including hail, wind, and rain. The siding comes in lap, vertical, and shake & shingle styles.
Mastic siding has three additional subtypes for added home protection. Insulated siding (for energy savings and noise reduction), Solardefense Siding, and Western Extreme siding. These siding types full-fill a specific geographic need or home purpose.
Mastic siding comes with several accessories that make homes standout. These include fascia, soffits, trim coils, mounting blocks, shutters, trim, and vents.
Mastic has limited lifetime warranties that are transferable up to 50 years. Moss will work with you to ensure your Mastic siding installation is protected under warranty.
Variform Siding by Ply Gem


Variform vinyl siding products by Ply Gem are designed to be virtually maintenance-free and look great for years to come. Unlike wood-oriented strand board (OSB) or fiber cement, Variform vinyl siding never needs painting and is impervious to moisture. This means no painting, scraping or replacing boards. Homeowners just need to provide a minimal amount of care, often done by washing the house, to keep the exterior looking new.
Moss Home Improvement and Roofing knows Variform offers a great selection and superior value. Variform's vinyl siding options include:
Insulated siding for stronger interior temperature and sound control.
Six different lap siding styles.
Five different vertical siding styles.
Realistic vinyl shakes and shingles.
Four soffit types for venting.
Smooth and textured fascia boards.
Two different skirting options.
Trim for house corners, windows, and doors.
Four different shutter styles.
Utility and gable vents.
Mounting blocks for house numbers, lights, and electric boxes.
Hardie Board by James Hardie


James Hardie revolutionized the siding industry with the adoption of fiber cement boards as house siding. Hardie Boards or Hardie Planks are impervious to insects and rot. They are a high-performance siding product geared for lasting durability. This form of siding generally adds value to a home once it is installed correctly.
Hardie Board often arrives at a project site primed for painting. Homeowners have the flexibility to choose any house color from any paint brand. As an additional option, James Hardie's ColorPlus Technology will add your chosen house color to your boards in a controlled environment. This provides an exceptional, long-lasting finish that makes a Hardie Board project house standout.
Everlast Advanced Composite Siding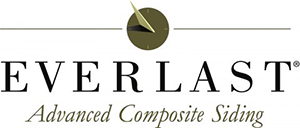 Made in the USA, Oakmont, Pennsylvania's Chelsea Building Products has created a siding designed to beat exceed the performance of fiber cement board. Unlike wood or fiber cement siding, Everlast Polymeric Cladding will not rot or warp since the siding does not absorb moisture. The siding features a cedar plank look. Everlast siding is strong, lightweight, durable, and impact resistant. Low maintenance garden hose cleaning helps maintain the siding luster.
Everlast siding has a UV stable color cap for color fade-resistance. It never needs to be scraped, sanded, painted or caulked. It is made from recyclable materials. The siding contains no organic materials that attract insects. It will not support combustion. Chelsea Building Products provides a Limited Lifetime Warranty against manufacturing defects, rot, delamination, hail, peeling, cracking rusting blistering, corrosion, and excessive color change.
Everlast's single clapboard style has two profiles, 4-½" and 6-⅞", two trim options, and 14 color choices available. Colors include Antique Ivory, Cabernet Red, Canvas, Chestnut, Flagstone, Harbor Blue, Heritage Cream, Misty Taupe, Sand Dune, Seaside Grey, Slate, Spanish Moss, Polar White, and Willow.
Decorative Siding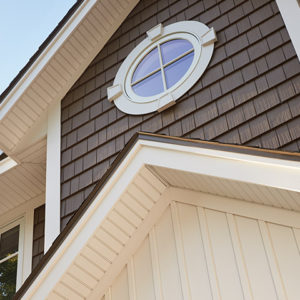 Moss Home Improvement and Roofing can make any home look less generic with all of these readily available siding products. It just takes a little imagination. Our experienced siding installers can use vinyl cedar shakes to create scallops under eaves and the board and batten method to break row after row of lap siding on a house. If you've seen siding installed on another house that you think will work well on your home, we can install it. Mention your desire for exceptional curb appeal during the free estimate visit. Challenge us!